We are proud to announce the launch of our new expanded School Colours scheme as part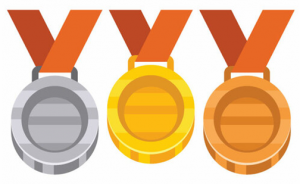 of our enhanced rewards program. Historically, AHS Colours were awarded for Sports participation and were known as 'Sports Colours'. We want to reward Engagement with our all aspects of curriculum enrichment and our co-curricular programme and therefore have developed 'School Colours'
School Colours are a way of rewarding and recognising both Engagement and Achievement. If a student receives School Colours, this is a significant achievement and something to be exceptionally proud of; we expect around 150 students per year (across the school) to achieve School Colours each year. We envisage the scheme will give our students something to really aspire to, with students proudly wearing their badges and it will encourage everyone to Aspire to achieving them in the future!
To maximise accessibility whilst maintaining aspiration, colours are tiered as Bronze, Silver and Gold Colours. The criteria for each level has been carefully agreed with the staff responsible for the numerous areas – please see further details below (You may note that PE is not listed here, and that is because PE has their own rewards and celebration evening).
AHS International Colours will also be available. Only a very small handful of students may achieve International Colours, which recognise contributions at that level. There will of course be other rewards and certificates available to students at the end of the school year to recognise their effort and achievement in School.
Our first Colours Awards Evening will be on Wednesday 13 July at 7pm, with invites sent to those students and parents due to receive School Colours in late June. Please save the date!
​