A Huge Well Done to AHS Year 11 on their Incredible GCSE Grades!
Aylesbury High School students received their GCSE grades today and WELL DONE on their absolutely outstanding results! Our students' 8 and 9 grades are 10% higher than 2019, beating the national trend of returning to the 2019 levels. These are a result of their sustained hard work and effort, as well as the support they have received from our staff and from their parents, during and following a very challenging period.  The students, whose important Years 7, 8 and 9 were affected by Covid, should be immensely proud; we are delighted for them.
| | | | | |
| --- | --- | --- | --- | --- |
| Percentages | 2023 | 2022 | 2021 (CAGs) | 2019 |
| 9 | 29.5 | 35.3 | 26.1 | 19.9 |
| 9-8 | 56.0 | 61.3 | 57.5 | 46.2 |
| 9-7 | 76.5 | 80.3 | 81.6 | 70.1 |
| 9-5 | 97.9 | 98.5 | 98.4 | 95.5 |
| 9-4 | 99 | 99.5 | 99.6 | 96.8 |
| Average Grade | 7.5 | 7.68 | 7.58 | 7 |
Headmistress, Mrs Marieke Forster, said, "These grades are a result of their sustained hard work, as well as the excellent teaching and individual guidance our pupils received from our staff. Whilst acknowledging the significant disruption that this cohort and their peers across the country have experienced due to the pandemic, our students have shown independence, strength and confidence in their approach to this exam series. They should be very proud of their achievements and I send them my warmest congratulations. Well done Year 11 – #AHSWalksTall."
As ever, we are most delighted at the options that these grades will create for our students, and we look forward to helping them in their next steps.

Press Release – GCE A Levels 2023
We are delighted to announce an excellent set of A Level exam results for the Summer 2023 cohort, which are a credit to our students, staff and parents.  As I am sure you are aware, the Government is 'flight-pathing' English results back to 2019 levels; we are thrilled that AHS has 'beaten' this trend, and that our 2023 results are significantly higher than our  2019 results.  However, ultimately, we are most excited about the opportunities that these grades will unlock for all of our students.
An impressive 47.5% of all entries were rated at A* or A (40% in 2019), and 75.4% were graded at A* to B (67% in 2019). Our students collected a total of 301 A* and A grades between them, sitting a total of 634 A Levels.  13 students collected 3 A* grades, and 5 of these achieved an incredible 4 A*s. 62 students had 3 or more A or A* grades, and our average grade was an A.
Head girl, Yi-Toong said; 'After a challenging two years, and despite these being the first proper exams we have sat, I am very happy to be going to my firm choice to study Journalism at a Russell Group university.  I would like to congratulate my peers for all their success and thank my teachers and the staff at AHS who have supported us during our time here.  I wish nothing but the best for everyone as we move on to the next chapter of our lives.'
Whilst grades are important, at AHS our focus is on the opportunities that these grades offer our students, the facilitation of their 'next steps'. 81% of our students were able to access their preferred  choice of university place, with 10 going to Oxford and Cambridge, and 65%  to the most competitive  high tariff universities. Our students will be leaving us to study at 59 different institutions, reflecting the careful research and decision making that our students have done to help secure their futures. We are immensely proud of all the well informed decisions our students have made for their next steps; as well as the familiar subject choices, our students will study degree courses in subjects as diverse as Global Design Engineering, Practical Filmmaking, Archaeology, Musical Theatre Performance and Dance Education and Teaching. Sixteen students will be studying Medicine, 2 will study Dentistry and 2 Veterinary Science. 
We are delighted that 6 students have secured prestigious degree apprenticeships to begin their careers with organisations including Allen & Overy, Goldman Sachs and British Airways, and other students are taking a year for personal development. 
We wish all of our students well and are proud of them all.
Headmistress Marieke Forster said; 'I would like to offer my congratulations to all of our amazing students who have achieved such well-deserved outstanding results. Aylesbury High School is one of the top performing girls' schools in the UK, offering students 24 GCSEs and 25 A Levels, and I am incredibly proud of all of our students who have independently engaged with this breadth of opportunity, and then worked incredibly hard over their two-year courses. I would particularly like to commend them on their hard work, strength and confidence as this is a Year Group that was particularly impacted by Covid, to the extent that they did not sit GCSEs.
Well done, AHS Year 13, you have been a super Year Group, and I am delighted for you all.  It has been a joy and a privilege to have been part of your educational journey.'
2023 A Level results at a glance:
No of students 200

Passes at A* – A: 47.9% (2019 40%)

Passes at A* – B: 76.1%  (2019 67%)

Passes at A* – E: 100%  (2019 100%)
#AHSWalksTall
---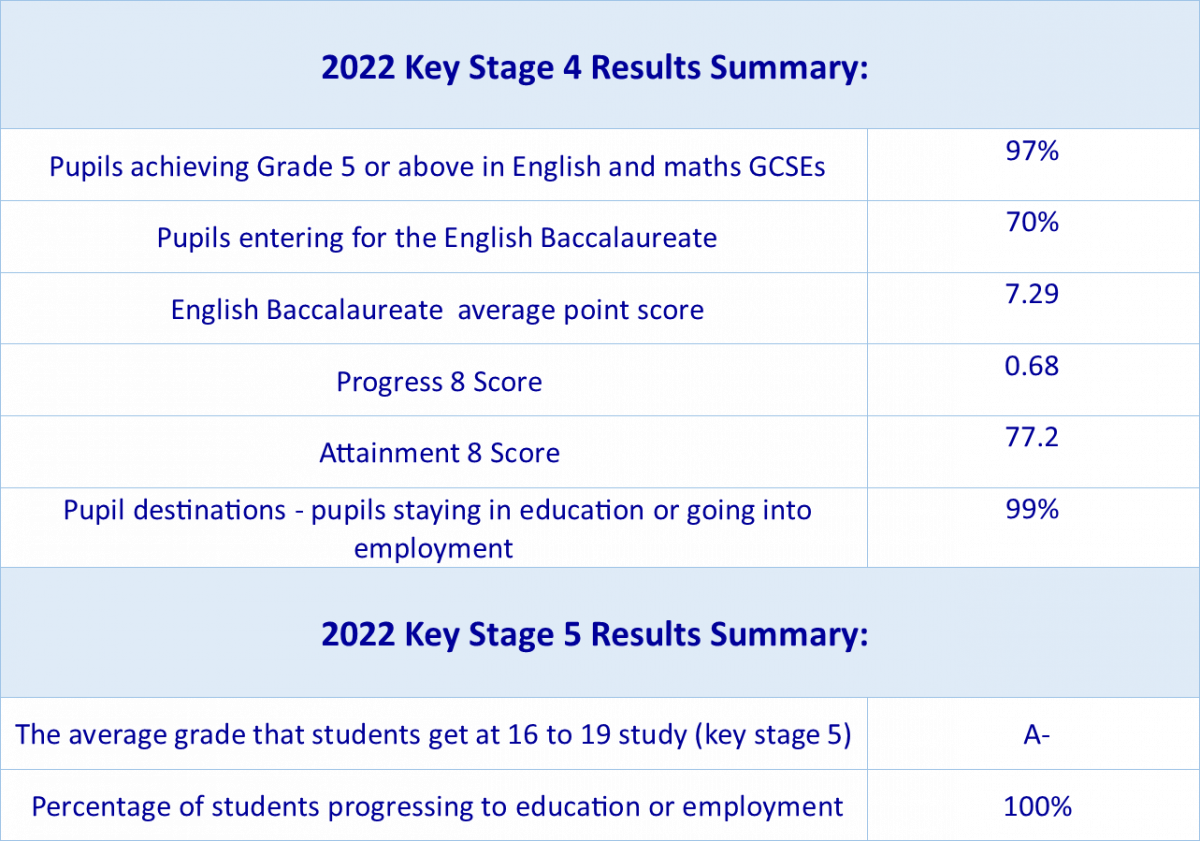 Latest DfE Destination data is for 2019/20 (195 students)
Sustained education, employment or training
89%
Any sustained education
72%
Sustained employment
16%
Sustained apprenticeship
1%
Destination not sustained
6%
Activity not captured
5%
For the 2022 Exam Results please see the 2022/23 Information Booklet Insert here.
Please click here for the DfE School Performance Tables.
---
Exam Results 2020 and 2021
In 2020 and 2021 qualifications were awarded through the provision of a centre assessed grade, because of the cancellation of public examinations.
As such, those results are not comparable with previous years' outcomes and are not published here.
---
Please see our prospectus insert for 2019 to see our 2019 exam results
Please see our prospectus insert for 2018 to see our 2018 exam results
Please see our prospectus insert for 2017 to see our 2017 exam results